Hey Everyone! It's been a little quiet around here lately, but we've been hard at work at some new stuff we think is going to rock your world & change the way you run giveaways forever. Starting today, we're delighted to give you a teensy weensy sneak peek of what's to come.
But more importantly…
Introducing the #SpreadSomeJoy Sweepstakes
What's the benefit of running a giveaway? As admins, we know there's no single answer to that question. Giveaways serve many purposes, and are well-suited for a wide range of goals. Whether you're causing a buzz for your new product, generating sales leads, growing your audience, collecting feedback, … whatever you're doing: giveaways are a powerful tool.
And as an admin, there's so much to consider logistically — from prize selection – to scheduling and logistics – to launch checklists, launch-day, post-launch promotion, moderation, audience interaction, and on and on — it's easy to overlook the best part of giveaways: Making people happy.
Contacting your winner(s) is a simple email on your end, but don't forget: you just made someone's day! And you'll make it again when their prize arrives in the mailbox. Giveaways are uniquely powerful at bringing joy into your audience's daily life. Winning is a rush!
Now it's your turn!
You give and give and give. Well, now it's time to receive. Today we're thrilled to launch the biggest giveaway we've ever put together — just to say We 💛 You! Always have, always will. And we want to take a moment to stop and spread some joy into your life. You deserve it ☺️
So without further ado, I'm stoked to introduce the Rafflecopter #SpreadSomeJoy sweepstakes!
🚁✨
Many will enter. Many will win…
(OK, that was cheesy 😝 – but the prizes sure aren't!)
The Prizes
We've got a host of cool prizes in store, which we've broken up into 3 categories:
One (huge-mongous) Grand Prize – One very lucky someone will win an epic cruise vacation for themselves and a partner.
Two Winner's Choice Prizes – Two others will get to choose between a pair of red-hot items that are topping everyone's wishlist this year.
10 Weekly Prizes – 10 lovely people will have their day made with a prize we think will bring you a little joy nearly every single day.
How to Enter
Entering the drawings couldn't be easier. There's no complicated forms, no annoying manual verification, no hassle. You'll get entered automatically just by tweeting, commenting, posting, and a few other things. Read on…
🚁✨
The Grand Prize: A Cruise for Two
First up, let's talk about the grand prize – the real goods – the main shebang – the big cheese – the hot diggity – the… OK we'll stop 🙄

Picture is for demonstration purposes. Cruise will not necessarily take place on the ship pictured.
Awwww yeah, that's right – get your cruise on! Summer may soon be coming to an end, but your dreams of a glorious, pampered vacation don't have to. In fact – now's the time to start dreaming about next year! Let's make it a doozie, shall we? 😎
One Grand Prize Winner will receive 2 Carnival Gift cards for $1,000 each, good toward almost any Carnival cruise & any number of on-board luxuries.
You can enter from now through Sunday, November 5th @ 11:59pm MDT
🚁✨
Winner's Choice Prizes
In addition to the grand prize, there will also be two "Winner's Choice" prize drawings, each featuring a pair of the year's hottest must-have items. They'll make fantastic gifts. Or, you know… not 😉
If you win, you get to choose which one you want. What's more: every time you enter to win a Winner's Choice prize, you also get an entry into the drawing for the cruise! It's a win-win(-win-win-win) situation!
Apple Watch Series 2 –OR–  GoPro HERO5
The theme for the first Winner's Choice is outdoor recreation…

Photo is for demonstration purposes. Apple Watch configuration may be different than what's pictured.
Into tracking what you eat, where you go, and how much you do? The Apple Watch is for you! The Series 2 features built-in GPS, water resistance, and apps for almost everything. It's the ultimate device for a healthy lifestyle — and it's also just dang cool! 🤓
Or maybe sharing your adventures sounds more fun than analyzing them. In that case, grab the GoPro! It's got all the features you've come to know like stunning video, and tons of mounts & accessories. But the Hero5 is also waterproof, has a built-in LCD screen, and more. It's epic! 😎
You can enter to win from Tuesday, August 15 through Sunday, September 25 @ 11:59pm MDT
Nintendo Switch  –OR–  PlayStation 4 Pro
But hey, we're equal-opportunity recreators! So the second Winner's Choice is about kicking it indoors…

Photo is for demonstration purposes. Nintendo Switch configuration may be different than what's pictured.
Dare I say the Nintendo Switch is the freshest, most innovative gaming system in recent memory. It's thoughtfully designed, and already has a handful of stand-out games. (Don't ask how much of my life I've lost to Zelda:BoTW) Play it on your TV, on the way out the door, in the car, on the bus… at work… on the toilet… 😳
But maybe you prefer the traditional consoles. In that case, help yourself to the PS4 Pro! We all know the PS4 rocks, and the Pro version features an even beefier processor and graphics unit, as well as 4K output, and more. (Heck, IMHO you're justified in picking it for Rocket League alone) ⚽️🚗💨
Enter starting Monday, September 25 @ 6am MDT through Sunday, November 6 @ 11:59pm MDT.
🚁✨
Awesome Weekly Prizes
As if the grand prize and awesome monthly prizes weren't enough, every week we'll be giving away something we think will make your day-to-day life a little better, easier, or more fun.
And to top it off… Every time you enter to win a weekly prize, you also get an entry into the drawing for the monthly prize AND the cruise. Huzzah!
So what have we picked? Well, you'll just have to find out 😁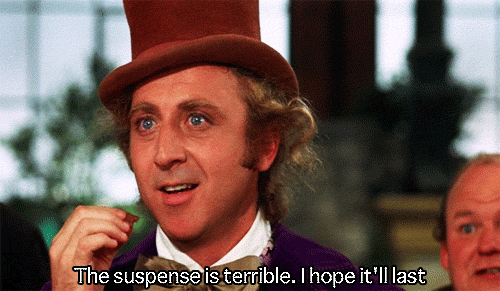 Willy Wonka will not be one of the prizes. Trust us… it's for the best.
🚁✨
How to Enter
Entering to win is easier than giving candy to a toddler. You'll get entries automatically simply for tweeting, commenting, subscribing to our newsletter, and a few other things. There are no entry forms to fill out. No verification to copy/paste. No hassle. Just do what you'd normally do: tweet, comment, and post.
Leave a Comment: Where would you cruise?
In fact, you can get an entry just for leaving a comment on this blog post. Just scroll down a little ways, and let us know where you'll go if you win the grand prize. Et voilà you've got your first entry.
(Be sure you're logged in, so we have an email to contact you with if you get picked!)
But wait! There's (way, way, way) more!
You can double, triple, quadruple, quintuple, sextuple, …whatever math word means 7×… your chances to win – and then some! To find out more, visit the giveaway homepage by clicking the big blue button below:

Get More Entries
🚁✨
Don't miss out! Follow along…
Follow us on Twitter, Facebook, and Instagram for:
Prize Announcements
Be the first to hear about each new weekly prize, and find out right away when the next Winner's Choice prize goes up for grabs.
Bonus Entries
We'll be posting bonus entries most days on Facebook & Twitter, and occasionally sending out exclusive entries to our newsletter subscribers! Keep an eye out for the 🚁✨ symbol — If you see it, a bonus entry awaits…
🚁✨
Rafflecopter.Next
I mentioned at the beginning that we've been hard at work on some new awesomeness for you. If you're interested in knowing more about that, take 60 seconds to fill out a form, and we'll be in touch!
🚁✨
For legal reasons, this giveaway is open only to US residents aged 21 years old or older. And — as always — is subject to its Terms & Conditions. Take a gander if you get a kick out of that sort of thing 🤓